Boy's father complains as ambulance is delayed by locked gates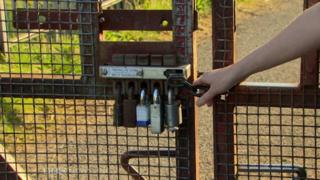 The father of a boy who collapsed on a football pitch has criticised a leisure centre after an ambulance sent to help his son was obstructed by locked gates.
Paramedics had to wait for 11 minutes outside the Valley leisure centre in Newtownabbey, County Antrim, before they could treat Cameron Moss.
The 14-year-old lost consciousness while tackling for a ball on Saturday.
Antrim and Newtownabbey Borough Council, which runs the centre, has carried out an emergency access review.
The injured teenager's father, Andrew Moss, told the Belfast Telegraph he feared Cameron was dying as they waited for the ambulance to arrive.
The emergency route that ambulances have to take to access the leisure centre's football pitches was padlocked.
After waiting at the gates for 11 minutes, the paramedics walked to the patient on foot.
The council has told the BBC that new emergency access procedures were put in place in November last year, due to ongoing building work.
It added that all the football teams had been advised of these arrangements.
However, Mr Moss said the council's explanation was not good enough.
"In the event of an emergency, your first reaction is ring 999, your first reaction isn't to ring reception, or go and look for the caretaker," he told the BBC.
"If you go down and look for the caretaker, there's 15, 20 minutes. That's nonsense," Mr Moss added.