Belfast: Neighbours tried to save elderly woman from house fire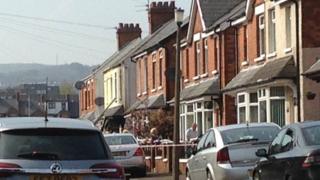 Neighbours tried "valiantly" to save an elderly woman from a house fire in Belfast, a chief fire officer has said.
The fire at the woman's home, in Rosapenna Parade, was reported to police at about midday on Thursday.
Neighbours tried to break into the house when they saw smoke, but were not able to help the pensioner.
The body of the victim, believed to be in her 80s, was found on the ground floor of the property after the fire.
Residents in the street were visibly upset by her death. They told the BBC that the woman was well known in the area, having lived in the house for many years.
The victim's name has not been released as she still has to be formally identified.
Police said they are investigating the cause of the fire but early indications are that it was accidental.
The semi-detached house was badly damaged by the blaze.