Belfast: Ormeau Road protest against hate crime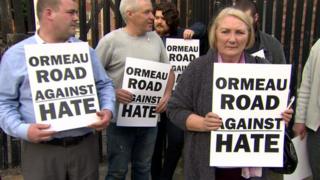 About 50 people have staged a protest against hate crime in south Belfast.
It was organised after attacks on homes in Walmer Street and Raby Street, off the Ormeau Road, earlier this week.
Residents, traders, politicians, clergy and community leaders attended the demonstration at Ulidia playing fields on Thursday evening.
Organisers said they wanted to show solidarity with the victims and make it clear that such incidents are not acceptable in their area.