Schools' green credentials assessed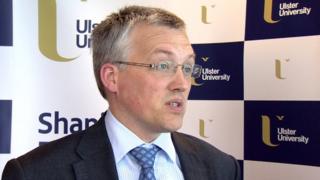 Students have been asked to assess the green credentials of their schools as part of a competition held by the Ulster University and the CCEA.
Pupils from 27 secondary schools across Northern Ireland were given specialist equipment and asked to monitor how energy was being used.
They were also asked to come up with ideas on how it could be saved.
Students from five of the schools have been shortlisted to pitch their ideas to a panel of experts later on Tuesday.
They are in with the chance of winning £2,000 for their school.
Prof Philip Griffiths of the Ulster University said: "They've been undertaking an audit of the energy usage in schools.
"They've been looking at the energy bills, they've been looking at temperature, they've been looking at the comfort in the actual spaces, they've been looking at how people perceive the spaces.
"They've been surveying the teachers and the pupils so that they can understand exactly how much energy it actually takes to create a space that we want to live in, we want to work in."