Maurice Currie conviction: Tougher checks to follow court case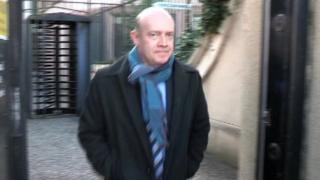 The Department of Health is to bring in tougher checks on pharmacies after the sentencing of an Armagh-based chemist on Monday.
Maurice Currie, 45, of Portmore Road in Lisburn, was given a 12-month sentence for illegally supplying 875,000 prescription drugs.
He pleaded guilty to 12 counts of supplying controlled drugs between 2009 and 2013.
They were a mixture of sleeping tablets and anti-depressants.
A Department of Health spokesperson said: "In response to the findings of the Armagh investigation, additional checks, unique in a UK context, are being put in place in partnership with the Health and Social Care Board which will help to identify any such type of illegal activity in the future."
Pharmacist Dr Terry Maguire said the safeguards need to be improved.
"I would agree that we probably need to sit back and look at whether the controls for certain types of controlled drugs are strict enough in terms of having systems in place that would identify potential overuse and therefore would trigger some investigation and perhaps identify problems that are arising much more quickly," he said.
"And also making sure if those problems are arising they can be stopped very quickly."