Lisburn: Pond Park Primary School bomb alert over after five hour operation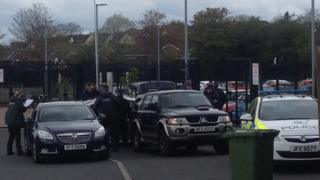 Around 600 children were moved out of a Lisburn primary school after a bomb warning call this morning.
Pond Park Primary School got a call just after 09:00 BST saying three devices had been left there.
Police initially asked for the children to be kept in the school while they carried out a search of the grounds.
They then evacuated the school and have began to search inside the building.
The alert is now over.
The school used social media to say they'd been told it had been a hoax.
PSNI chief inspector Derek McCamley said: "To think that someone would pick on a school to carry out such a disgusting prank is very saddening.
"However I want to assure the public that we are working hard to identify anyone involved with this hoax incident and I would appeal to anyone who knows who is responsible to pick up the phone and call Lisburn PSNI Station on the non-emergency number 101."
A nursery school is also based on the site.
The 600 pupils and 50 staff were moved to the nearby Laurelhill Community College.
Alica Sangan, whose children are pupils at the school, said she "was shook up" when she received a text message telling her about the alert.
"When I got to the school my kids were worried and hadn't a clue what was going on," she said.
"I think it's a disgrace that someone can put innocent kids at risk - they are very, very sick".
Another parent, Rachel Jamison, said it was an "absolute disgrace that children have to experience this".
"My youngest [is] home sick with chicken pox and [I] had to get him out of the house to go and get my nine-year-old son, who now keeps asking what-if questions," she said.
"People who attack a school should be behind bars. Well done to all teachers and police who helped today and thank you."
The chair of the school's board of governors, Rev Andrew Thompson, said the children were "safe and secure".
"I have one child at the school. I just heard there was a security alert and children have been evacuated off site," he said.