New rapid response service for Northern Ireland terminally ill people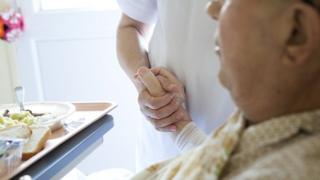 Terminally ill patients in Northern Ireland are to benefit from a new rapid response service provided by Marie Curie nurses.
The service is being rolled out as a pilot project in the Northern Health Trust.
It is currently available in three of five health trusts and, depending on funding, will be extended.
It means critical patients will have direct access to immediate care.
Sandra Fulton, from the Marie Curie charity, said: "Recently I went out to a lady, she was in her early 60s and was only recently discharged from hospital.
"She was very clear she didn't want to go back in again and her symptoms were actually getting worse, she really was very sick.
"We were able to sort out a whole new prescription for her, get all that medication sorted out and she was able to stay at home."