Heenan family to initiate Sir Frank Kitson and MoD legal case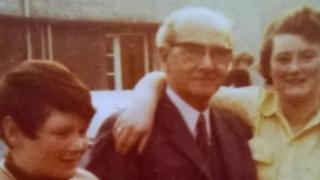 The family of a man killed in 1973 are travelling to London on Thursday to formally initiate legal proceedings against the Ministry of Defence and a former senior Army officer.
Eugene 'Paddy' Heenan, 47, was murdered by loyalist paramilitaries in February 1973.
A minibus carrying him and 14 others to an east Belfast building site was attacked by the UDA.
His family is suing the MoD and General Sir Frank Kitson.
They claim Mr Heenan died because of negligence and misfeasance in office.
It is the first time a retired senior soldier has been personally sued over alleged actions during the Troubles.
Mr Heenan's son, who is also called Eugene, said the family want answers.
"Frank Kitson, he was the architect of the counter-insurgency," he said.
"He wrote the book, he wrote the manual which was adopted by the British government and the British army.
"They used that in other countries - Kenya and Malaya - it was tried and tested. They were using one side, they were using the UDA and UVF to keep nationalists under threat."
UDA man Albert 'Ginger' Baker, a former soldier, was given a life sentence for killing Mr Heenan and three others but later claimed to have links to British intelligence.