Strathfoyle House Fire: Woman from Moyglass Place taken to hospital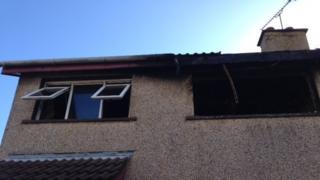 A woman in her 50s is in a critical condition in hospital after being rescued from a house fire in County Londonderry.
Around 20 fire fighters tackled the blaze in Moyglass Place, Strathfoyle, at around 22:00 BST on Wednesday night.
Two neighbours were able to rescue the woman from the burning building before fire crews arrived.
It is believed the fire started in one of the bedrooms. The woman has been taken to the Royal Victoria Hospital.
'Hope nobody dies'
Gina Doherty was one of the neighbours who ran into the blaze.
"I ran into the house to see where it was. I couldn't go up the stairs because it was full of black smoke.
"The girl that did rescue her, Orla, she was able to get up to the very top step. I ran down and got a damp cloth to make sure she put it over her mouth. We eventually got a hold of the girl that was in the bed.
"Shouted to her to try and get her to crawl along the floor for us to get her to the top of the stairs because she had a broken hip," she said.
"Eventually we got her out, turned off all the electrics and left the house."
Ms Doherty said the woman was in shock and had a number of burns on her body.
"I know she had burns on her back and her hair but apart from that I don't think she took it all in what was happening round her."
District Commander with the Northern Ireland Fire and Rescue Service Robbie Bryson said an investigation into the cause of the fire was underway.
"We had three fire crews from Derry and one fire crew from Limavady, they got the call just after 10 last night.
"On arrival they witnessed a building well alight, quite a well developed fire and a lady in her early 50s who had suffered burns and had actually been rescued by a neighbour.
"She was taken to hospital."