Anthony Kearns gets suspended jail term for baton attack on cyclist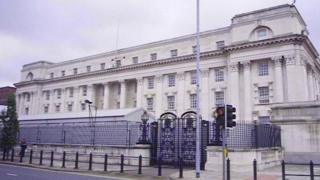 A man who battered a cyclist with a baton and broke his ribs has been given a ten-month suspended jail term.
Anthony Kearns, 18, of Arundel Walk, had been found guilty of wounding the man during the attack in west Belfast last August.
A barrister for Kearns said the defendant still claims to be innocent.
The district judge said the evidence had been well-tested and suspended the jail term for two years.
The victim sustained broken ribs and lost two teeth in the assault.
He also required staples for head injuries.
A group of two or three assailants wielding batons were said to have stopped him as he cycled through west Belfast.
Kearns was the only one to be recognised.
The judge said the matter was "very serious" and deserved a custodial sentence.