Northern Ireland midwives strike: The pay dispute in numbers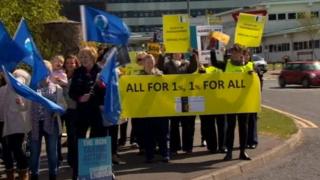 Thursday' strike action by midwives in Northern Ireland is over a 1% pay rise.
The rise was recommended by the independent NHS pay review body for all of the UK in 2014/15.
Health unions in England eventually accepted the pay offer last year, but workers in Northern Ireland did not. The payments were applied anyway.
It meant, on average, staff across Northern Ireland received an average rise of 3.7%. Some staff got a maximum increase of 6.7% in increment payments.
Those who were at the top of their scale received a 1% top up. This was a non-consolidated, one-off payment.
With regards to this year's pay deal - agreement has been reached in England that will increase increments for the majority of staff by 1%.
According to officials this is at no extra cost to the taxpayer with some staff - a majority being management - having their pay frozen and missing out on increments.
This "frozen" money allowed resources to be recycled to help pay for staff on the lower grades.
A spokesperson for Northern Ireland's Department of Health said it welcomes the trade unions "more positive response to its latest invitation to engage".
"Without question, our midwives in Northern Ireland provide excellent care to mothers and their families.
"However, there is ongoing pressure within our health and social care system and there is a very difficult financial year ahead with hard decisions about the provision of health and social care services."