Belfast Festival of Fools under way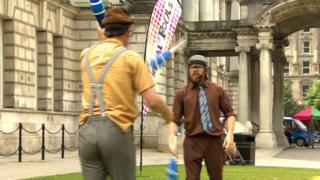 Local and international theatre performers will be entertaining on the streets around Belfast city centre over the bank holiday weekend.
The twelfth Festival of Fools will feature 120 free shows.
They will be staged in the city centre over the next few days.
Acts this year include clowns from Spain, acrobats from Australia and Tanzania, as well as a host of performers from Northern Ireland.
"We've about 40 shows a day starting at midday in Cornmarket, Rosemary Street, St Anne's Square, Writer's Square and Cotton Court," festival director Will Chamberlain said.
"There's a real array of humour, of colour.
"We've got clowns from Barcelona, we've got jugglers from America who've come straight from the Late, Late Show to be with us, we've a yodelling, leak-beating Austrian who will be performing one of the most bizarre dances you ever seen.
"We've really got something for the whole family."