Pipe bomb thrown into garden in east Belfast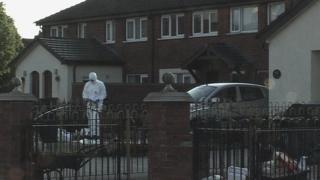 A pipe bomb has been thrown into the garden of a house in east Belfast.
Residents were moved from their homes at Island Street after the incident at about 03:40 BST on Friday. A community centre was opened to provide shelter.
Two people drove off on a motorcycle that was discovered a short time later at Clandeboye Street.
Police are also investigating whether a single-car crash on the Beersbridge Road shortly before 05:00 is linked to the attack.
An Army bomb team said a "viable pipe bomb type device" had been thrown into the garden.
Detectives have appealed for information.
Meanwhile in north Belfast, there is a security alert in the Brompton Park area of the Crumlin Road.
Police have urged people not to approach any suspicious objects.