Casement Park: Hillsborough campaigner appalled at safety issue claims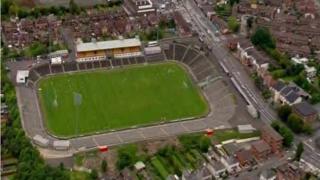 A campaigner for those bereaved by the Hillsborough disaster has said she was horrified to learn of the safety issues raised around the new Casement Park ground project.
Sheila Coleman of the Hillsborough Justice Campaign was speaking on BBC Radio Ulster's Talkback show.
It followed claims made by safety expert Paul Scott on Thursday.
Sports Minister Carál Ní Chuilín has since asked for a full review of the redevelopment plan.
Ms Coleman said safety was paramount and she was "horrified" at some of the claims, which she originally commented on in the Irish News on Friday.
"My comment would be in planning, you have to consider the worst case scenario not the best scenario," she said.
"So if there is any suggestion that in exiting from a ground, there are circumstances where it takes more than a few minutes, you have got a problem.
"Obviously you would want lessons to be learned and the idea that there is any compromising on the issue of safety is actually appalling."
On Thursday, Mr Scott, of the government's Safety Technical Group, told the Department of Culture, Arts and Leisure (DCAL) committee he was put under "undue pressure" to approve plans for the new Gaelic Athletic Association (GAA) ground by officials from the sports minister's department.
He also said he had made a complaint of bullying against them in December 2014.
'Evacuated'
He told the committee that he had been expressing concerns about the stadium design for two years.
Ms Ní Chuilín said she had listened to the evidence presented, and in light of the safety concerns raised over the proposed redevelopment design, had asked for a full review of the project, "including independent specialist advice as appropriate, which will draw on experts in the field of public safety".
She said there could be "no compromise on the safety of the people who use stadiums and those who live in surrounding areas".
Mr Scott told the committee the 38,000-capacity stadium could not be evacuated safely, and there was the potential for a disaster like the Hillsborough stadium tragedy in which 96 Liverpool FC fans died during an FA Cup semi-final in April 1989.
But he said his concerns had been largely ignored. The proposed Casement Park design was blocked in court last year. Mr Scott said the new design needs a more rigorous safety check.