Larne: Flats evacuated in arson attack on 'legal highs' shop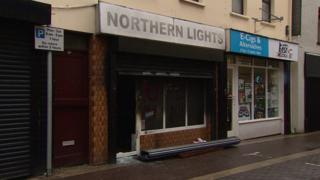 A number of residents had to be moved from their homes overnight due to an arson attack on a shop which sells 'legal highs' in Larne, County Antrim.
The residents live in flats above the shop on Dunluce Street that was set on fire during the early hours of Saturday.
Police said shutters had been forced open and a fire was started in the shop which caused damage to the property.
The fire was reported to police at about 03.45 GMT.
The residents have since been allowed to return to their homes.