Men charged after robberies and assaults on four women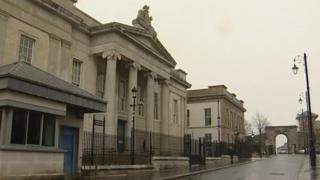 Two men have been charged in connection with a burglary in Londonderry and an attempted robbery in County Tyrone in which four women were injured.
The accused are Michael Patrick Nolan, of Gortnamona Way, Belfast, and Henry Christopher Marley, from Edward Street, Portadown, County Armagh.
They are charged with trying to rob Donemana credit union and assaulting two women who were working there.
Mr Nolan is also charged with attacking two women in a burglary in Derry.
The defendants appeared at a special sitting of Londonderry Magistrates' Court on Saturday,
Including the alleged offences at the credit union, Mr Nolan faces a total of 15 charges.
Other charges against the 37-year-old include the assault of two women at Woodside Heights in Derry on Thursday, burglary, stealing a car, dangerous driving and failing to stop for police.
Mr Marley, 32, is also charged with burglary of the house at Woodside Heights, causing criminal damage to a woman's car and stealing a handbag and car keys.
Neither man applied for bail and both were remanded in custody to appear via video link again next Thursday.