Thomas Valliday: Escaped prisoner arrested in Belfast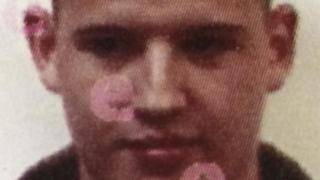 A convicted murderer who escaped from prison staff has been arrested in Belfast after four days on the run.
Thomas Valliday has been unlawfully at large since Friday, when he absconded from the Ulster Hospital, Dundonald.
Police said the fugitive was arrested on Monday evening, after extensive inquiries and help from the public.
In 2010, Valliday was told he would serve at least 17 years of a life sentence for the murder of west Belfast man Frank 'Bap' McGreevy.
'Violent history'
He attacked the 51-year-old former IRA prisoner in his flat in Ross Street in Belfast in March 2008.
Valliday, also from west Belfast, was high on a cocktail of drink and drugs when he battered Mr McGreevy with a variety of weapons, including a pick-axe handle.
After his escape, police had warned the public not to approach Valliday, saying he had "a violent history and is considered dangerous".
They said they had received a number of sightings of the escapee in response to their appeal for information on his whereabouts.
In a statement on Monday evening, Supt Sean Wright said Valliday "will be taken for interview by police before being returned to prison in due course".
"I would like to take this opportunity to thank members of the public in helping police to get this dangerous individual back into custody and in keeping people safe," the officer added.