Moira solicitor John Irwin admits £94k clients theft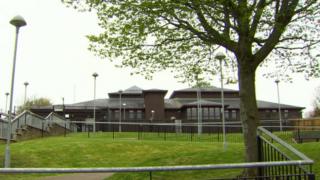 A County Down solicitor stole almost £94,000 from the estates of three deceased clients to prop up his failing business, a court has been told
John Irwin, 39, of Trummery Heights, Moira, pleaded guilty to three counts of fraud by false representation and three charges of false accounting.
Craigavon Crown Court was told the offences took place on dates between August 2007 and July 2012.
A judge said he would pass sentence later this month.
The offences involved three deceased men Irwin was acting for in probate matters on behalf of their relatives.
A prosecuting barrister said the offences came to light in 2012 when the Law Society of Northern Ireland received a complaint about Irwin and an investigation was launched into his solicitor's practice.
The judge was told that three cases were found to be at fault with a total loss to relatives of the deceased men amounting to £93,366.97.
The prosecutor said that monies were taken out of the client account and then transferred into the office account of Irwin's practice.
In a number of the cases, Irwin had claimed some of the monies was in respect of bills for probate work he had carried out but "no bills were ever sent out to the relatives''.
Other monies were used to pay office rent and also his monthly salary.
The court heard Irwin was suspended from practice by the Law Society and was subsequently struck off from practising as a solicitor. He was also later bankrupted.
The barrister said Irwin's parents had paid £65,000 over to the Law Society's compensation fund and a further £15,000 was paid by the defendant from the sale of his family home.
"That has left a shortfall to the Law Society Compensation Fund of £13,000. However, the victims have been compensated in full from the fund,' the prosecutor said.
'Shameful and remorseful'
A defence barrister said Irwin had made full admissions during the Law Society investigation and also in police interviews.
But he said that Irwin had always intended to pay back the monies and there was no intention on his part to "permanently deprive his clients of their cash''.
"It was as a result of a difficult situation he found himself in but that is by no way an excuse,'' the defence barrister said.
He said Irwin used the money to try and keep him and his business going and it was not used to fund an "extravagant lifestyle''.
"He is shameful and very remorseful for what has happened. This is something that he could not have possibly got away with. He knew he was going to be caught in respect of this. It was a charade,'' he added.
Irwin was released on continuing bail.