Ombudsman investigation: 'Taser use was lawful'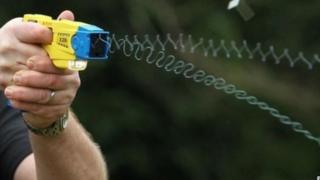 A police ombudsman investigation into the use of Tasers fired by officers in Northern Ireland has ruled that it was "lawful, proportionate and necessary".
The ombudsman's office is contacted each time police use Tasers.
Between July 2012 and June 2014, police used Taser on members of the public 10 times.
On each occasion, the person who was Tasered had a weapon.
These included knives, iron bars, a wine bottle, a kettle bell weight and an antique sword.
In west Belfast on 12 July 2012, a Taser was used against a man who had locked himself in a bedroom and had a knife to his throat.
'Properly trained'
It was also used against a man in Dundonald who had threatened police with an antique sword and used shards of broken crockery to cut and stab his hands, neck and face.
Officers responding to reports of a man acting aggressively Tasered a man in Carrickfergus who attacked them with a kettle bell weight in one hand and a wine bottle in the other.
The ombudsman, Dr Michael Maguire, found that all the officers who fired Tasers during the incidents were trained and authorised.
He said these ten incidents were not the only use of Taser by police during this period.
Others have been reported on by the police ombudsman, and those findings will be issued later.