Jamie Bryson gets six-month suspended jail sentence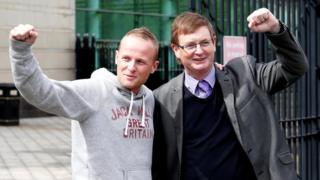 High-profile Union flag protester Jamie Bryson has been given a six-month suspended prison sentence for taking part in unlawful public processions.
He rose to prominence during a campaign against Belfast City Council's decision in December 2012 to limit the number of days the flag flies from the city hall.
Bryson, 24, was told that he deserved no credit for contesting charges of participating in protests.
In court on Wednesday, he smiled as his sentence was handed down.
Although he was not involved in violence, a judge said the unlawful marches caused disorder at a "very tense and sensitive time".
Bryson, of Rosepark, Donaghadee, County Down, had fought a series of charges linked to widespread demonstrations over the decision to restrict the flying of the Union flag at Belfast City Hall.
He claimed he had been the victim of a political prosecution.
He denied four counts of participating in un-notified public processions during January and February 2013, and obstructing traffic on Belfast's Newtownards Road.
He insisted he did not know the protests could have been unlawful.
He accepted that he featured on CCTV footage of the events, but repeatedly stressed that on each occasion, he was walking to and from the city centre as an individual.
During the trial, prosecution counsel accused him of treating police who interviewed him with contempt.
The court heard he told officers questioning him about the marches that he was an Irish republican and the first minister.
He even suggesting a fictional gay relationship with fellow campaigner Willie Frazer, it was claimed.
In a highly unusual move, one of Northern Ireland's most senior police officers was called to give evidence as part of the defence case.
ACC Will Kerr said he agreed to meet Bryson and loyalist community representatives as part of efforts to ensure their weekly demonstrations did not break the law.
He also insisted that he warned those at the meeting on 29 January 2013 of the "criminal justice consequences" of taking part in un-notified public processions.
Bryson was convicted in March and sentenced on Wednesday.
A prosecutor pointed out that the offences took place in breach of a suspended prison term imposed back in 2012 for possession of an offensive weapon.
But defence counsel said his client had been trying to prevent trouble at each of the events.
He claimed Bryson had been "made a scapegoat for what is colloquially known as the flag protests and the disorder at some of those protests".
"The footage played throughout the contest was of Mr Bryson repeatedly calling for peaceful protest and condemning any violence that occurred towards police officers or in the context of riotous behaviour," his lawyer said.
The judges said Bryson was "under no illusion or confusion about the status of these parades".
"He may have tried to say he was confused, but I did not accept he was confused at any time," she said.
Imposing a six-month prison sentence for the four un-notified procession offences, the judge suspended it for two years.
She also handed down a one-month term, suspended for 18 months, for obstructing traffic.
It is understood that Bryson intends to appeal the sentence.