Armagh: One-way plan for historic Mall to be reviewed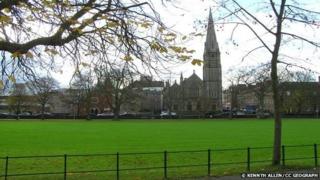 A plan to create a one-way traffic system around The Mall in Armagh city centre is to be reviewed following more than 100 objections from the public.
The aim of the road scheme was to help reduce traffic congestion in the city.
However, Regional Development Minister Danny Kennedy has told the Ulster Gazette it could be a "very difficult sell" due to the number of objections.
Mr Kennedy said he asked engineers from Transport NI (formerly Roads Service) to carry out a complete review.
He has not ruled out the scheme, but told the paper that "very serious consideration" had to be given to the concerns that have been raised with his department.
The Ulster Unionist minister said he had received about 126 letters and representations from people in the area, including residents, business owners, church leaders and community representatives.
The Mall was built in the 18th Century and in 1797 the then Church of Ireland Archbishop of Armagh leased it to the city authorities with the aim of turning it into a "public walk for the people".
The green space is surrounded by some of the city's finest Georgian buildings.
'Contributions'
In a statement, a spokesperson for the Department for Regional Development said an information event had been held on 12 February 2015 to engage with the public on the issue.
"A large number of comments and contributions have subsequently been received," the statement said.
"After the works on the Friary Road junction are complete in June, Transport NI will review the performance of the junction upgrade and this will inform the extent to which further junction upgrades may be required to improve safety and traffic progression in the city.
"This review is expected to take several months and no final decisions will be made on the most appropriate traffic management scheme until this has been completed."
The Mall Resident's Association (MRA) said it welcomed the minister's decision to carry out a review.
"We will however maintain a vigilant watching brief on further developments, and we look forward to a formal invitation to participate in the review, including in particular the briefing of the consultants retained by Transport NI," the MRA said in a statement.
"We must not repeat the flawed process used in the previous assessment."
The MRA added that it remained "committed to playing our part" along with other agencies to find ways to reduce congestion around Armagh, "without sacrificing one of the city's most important spaces".