Loyalist 'collusion' legal action begins in Belfast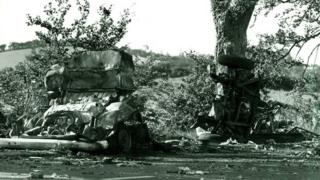 Families of more than 100 1970s murder victims have started a legal action over claims of collusion by members of the security forces with loyalists.
The Belfast hearing had to be moved to a larger court, due to the level of interest in it.
The legal challenge is against the chief constable of the PSNI.
It is over an alleged failure to complete an overarching, thematic inquiry and report through the Historical Enquiries Team (HET).
The High Court heard a statement from a senior investigating officer from the HET.
He said he had compiled a draft report into collusion between loyalist paramilitaries and security force members in mid-Ulster in the 1970s.
The officer said it was 150 pages long and 80% complete.
He said he had submitted it in 2010 and, so far, has had no explanation as to why it has been shelved.
A lawyer for Edward Barnard, whose 13-year-old brother Patrick was murdered in a bomb attack at the Hillcrest bar in Dungannon in March 1976, told the court that police chiefs should be ordered to ensure completion of the investigation.
"It's not the job of members of civil society, interested parties and bereaved families to put the jigsaw together," the barrister said.
"That is the job of the respondent (the PSNI) at this stage and that's why we bring the claim."
Relatives of victims claim the authorities knew about the activities of an Ulster Volunteer Force gang based at a farm in Glenanne, south Armagh.
The gang also contained members of the Royal Ulster Constabulary and Ulster Defence Regiment.
Among the attacks blamed on it were the 1975 Miami Showband Massacre in County Down, in which three members of a popular music group were killed, along with two of the UVF attackers and the Step Inn bombing in Keady, County Armagh, in 1976, in which two people were killed.