Device found in Newry was 'viable and had exploded'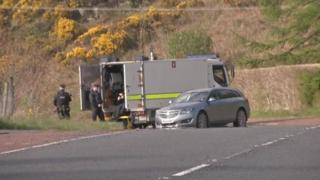 Police have said a device found in Newry was viable and had exploded.
The railway line was closed between Newry and Dundalk after the device was found on the Barracric Road in Newry on Thursday.
The alert has ended. The railway line and the road have now reopened.
Police said the remnants of the device have been taken away for further examination. There was no damage or injuries.
Elsewhere, in north Belfast, the Ardoyne Road was closed between the Crumlin Road and Alliance Avenue after a suspect device was discovered.
Estoril Park was closed and a number of homes were evacuated.
Police say the security alert has now ended and all roads have reopened.
They say initial examinations suggest the device was not viable.
Residents have been allowed to return to their homes.
Earlier, the Ministry of Defence had confirmed one of its vehicles on its way to the Newry alert had broken down at Sprucefield, near Lisburn.
It said there was adequate support and no delay to its response.