North Belfast bomb: Teenager charged in connection with find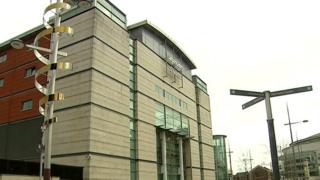 An 18-year-old man has appeared in court in connection with a police investigation following the discovery of a bomb in north Belfast.
Conal Corbett, from Flax Street, Belfast faces three charges.
He has been charged with collecting documents and possession of articles likely to be of use to terrorists.
A controlled explosion was carried out on the device at the Crumlin Road junction with Brompton Park last Friday, 1 May.
Appearing in Belfast Magistrates' Court on Saturday, it was alleged that on 27 April, Mr Corbett had a mobile phone and top up voucher "in circumstances which gave rise to the suspicion that the possession was for a purpose connected with the commission, preparation or instigation of an act of terrorism".
The teenager was also charged with possessing a handwritten note about a rifle and ammunition.
A police officer told the court he believed Mr Corbett was a "violent man" who "posed a risk to the public".
The judge refused an application for bail and remanded the teenager to a young offenders centre.