Belfast parade for 100 years since WW1 march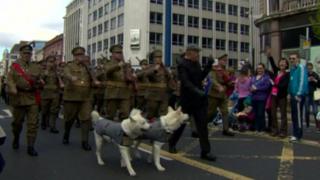 Thousands of people have turned out for a parade to mark 100 years since soldiers marched through Belfast city centre before leaving for World War One.
Bands led a procession of men and women, many dressed in vintage military uniforms and carrying replica weapons.
The parade was organised by the 36th Ulster Division Memorial Association.
A wreath-laying ceremony was held at Belfast City Hall.
Ch Supt Nigel Grimshaw said there had been "a large scale police operation with community safety at its core".
"I would like to express my thanks to all of those involved behind the scenes over recent weeks and today to make this possible," he said.
"The efforts made by community representatives and event organisers show a real willingness to achieve resolutions.
"Hopefully this will create a positive platform for dealing with sensitive parades throughout the coming months."