NI agri-food industry 'must lead marketing efforts'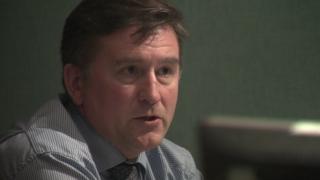 Northern Ireland's agri-food sector must not be held back by politicians, a senior industry figure has said.
It was announced in March that a new food and drink marketing body would be led by the Agri-Food Strategy Board.
The board's Declan Billington said it was important that marketing must be led by those working in the sector.
"It's the inertia that builds up in politics, with confused messages about where we need to go," he told the BBC's Inside Business programme.
"That's one of the reasons why we said, 'look, business knows where it needs to go and if we don't, we'll find out pretty quickly'."
Mr Billington said the board's message to politicians was for them to "step to the side and support us, and let us sprint for the opportunities".
"Back us with the board, let us drive forward with an industry-led board," he said.
Inside Business is broadcast on BBC Radio Ulster at 18:30 BST on Monday.