Alasdair McDonnell 'won't stand down as SDLP leader'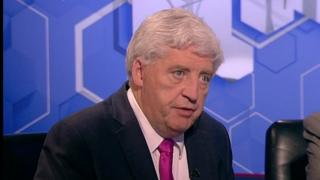 Alasdair McDonnell has no intention of standing down as party leader, say senior SDLP sources.
On Monday morning, newspaper reports said Dr McDonnell was under pressure to step down.
It follows confirmation he plans to give up his assembly seat to stay on as South Belfast MP at Westminster.
However, former SDLP deputy leader Brid Rodgers said she did not think the party could be led by someone who was not part of the assembly group.
"One of the things notable (from the general election) has been the disillusion of people with politics in particular and the fact that people are turning off politics in Northern Ireland," she told BBC NI's Good Morning Ulster on Monday.
"The Good Friday Agreement has not been working, the institutions have been stagnating and what passes for politics is a series of photo shoots and crises.
"With that in mind, the party has to reflect on whether the best way forward is to have a party leader who is not in the assembly.
"Personally, I think that the party leader needs to be in the assembly and Alastair says he will be concentrating on Westminster.
"But the decision will be made about the party leadership at conference."
However, a senior SDLP source said Dr McDonnell intended to stand again for the leadership at the party conference in November.
Although Dr McDonnell plans to stand down eventually from the assembly this might not take place before Christmas.
The source blamed the leader's internal critics within the SDLP for Monday's reports claiming that they had planned a coup either way, whether Dr McDonnell won or lost in South Belfast.
The source said some of the candidates favoured by the critics had lost votes at the election, whilst new candidates recruited by Dr McDonnell had increased the party's vote in their areas.