Clintyclay primary school: John O'Dowd to appeal ruling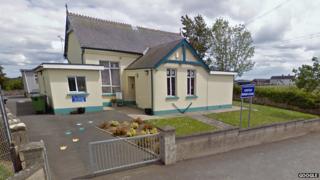 The Northern Ireland education minister is to appeal a High Court decision to quash his closure order on a County Tyrone school.
John O'Dowd is to appeal the decision on Clintyclay Primary School, Clonmore Road, Dungannon.
It is the first Catholic school in Northern Ireland that was trying to change to integrated status.
In March, the court quashed a Department of Education decision to shut it.
The High Court ruled that the education minister's approval to close Clintyclay Primary was "infected" by incorrect information that the school had financial problems.
Legal action against the closure was brought by Gerard and Breda Cunningham whose child is a pupil.
Mr Cunningham is also head of the board of governors.
He said: "We are not challenging the minister's educational policy, but the report that closed our school was flawed in that we proved we were financially viable.
"We cannot see why the minister did not accept the judge's position. We would call on him to reconsider the decision to appeal."
Mr Cunningham said Clintyclay - a two teacher school - could have up to 42 pupils in September.
"As we won the judicial review, it has put a certain confidence back in the school," he said.