Catherine Strong sentenced over mother pillow attack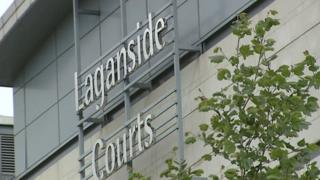 A woman who repeatedly pressed a pillow on her stroke-victim mother's face has avoided being sent to prison.
Catherine Strong was instead ordered to complete three years on probation for subjecting the elderly victim to a drunken attack at their Belfast home.
The 49-year-old defendant, of Argyle Street in the city, had pleaded guilty to common assault on the pensioner.
She also admitted five subsequent assaults on PSNI officers and designated police representatives.
Belfast Magistrates' Court was told care workers witnessed the incident when they called at the house on January 10.
One of them looked in and saw the victim - believed to be in her late 70s - lying on the bed with her feet hanging off the edge.
A prosecution lawyer said Strong was standing over her mother holding a pillow in one hand.
The assault was said to involve pressing the pillow down on the victim's face for up to a second at a time, lifting it briefly and then repeating the action.
In total the incident witnessed lasted for less than 30 seconds, the court heard.
It was stressed that the care worker believed Strong was beating her mother, but was not trying to suffocate her.
Strong, described as pleasant when sober but abusive when drunk, had been in an emotional state in the preceding weeks.
'Good relationship'
Interviewed after her arrest, she stressed how she took on the role of carer when her mother had a stroke 12 years ago.
On the day of the incident she had downed a litre and a half of cider, but claimed to be more tired than drunk.
Strong also insisted she had a good relationship with her mother involving the pair joking and messing around, the court heard.
Since the incident, the pensioner has been moved into care.
The defendant visits her every day and has started attending an addiction clinic, a defence lawyer said.
On being told about the victim's new living arrangements the judge indicated that concerns for her vulnerability had eased.
Passing sentence, she imposed a probation order of three years in total.
Strong must also attend alcohol counselling service as part of the programme.