Threat warning over European birds and habitats review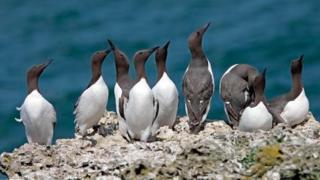 Northern Ireland's environmental groups have joined colleagues across the UK to warn that a review of EU environment law is the biggest threat in a generation.
NI Environment Link, an umbrella body, has teamed up with green organisations to warn about the implications.
About 100 UK groups have criticised the European Commission review.
It will look at the cost of implementing the birds and habitats directives.
It will also consider whether it would be possible to cut red tape around them without compromising their effectiveness.
But opponents said the move ran the risk of weakening the directives "by those who mistakenly regard them as a block on business and economic growth".
Colum Delany, RSPB Northern Ireland, said: "We're going to have to work from a precautionary principle.
"Our concern is that there could be a drive to weaken these directives, to open them up to create vulnerability for biodiversity for short-term political priorities."
He said Rathlin Island, off the County Antrim coast was an example of where the directives had worked well.
He said they had increased the numbers of birds like razorbills and guillemots and provided a valuable tourism attraction.
The habitats directive protects more than 1,000 animal and plant species and more than 200 habitat types - special types of forests and wetlands of European importance.
The birds directive, which was adopted in 1979, is the oldest piece of EU legislation.
They form the cornerstone of European nature conservation policy.
There have already been suggestions that they might be merged into a single piece of legislation.
The public consultation on the future of the directives is now open.
It is expected that it could be next year before there is an outcome and a decision on whether they should be revised.
The EU is reviewing all its legislation in so-called "fitness checks".