Colin Duffy: Court rules detention was not breach of human rights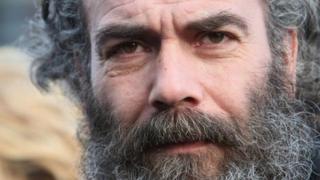 European judges have rejected a claim from a prominent Northern Ireland republican that his detention under UK terror laws breached his human rights.
Colin Duffy, from Lurgan, was held for 12 days after he was arrested on suspicion of involvement in the murder of two soldiers in Antrim in 2009.
He and two others took a case to the European Court of Human Rights.
They claimed their detention was incompatible with rules governing lawful arrest and detention.
Their claims relied on an article covering the right to liberty and security, specifically the entitlement to trial within a reasonable time or release pending trial.
However, judges at the Strasbourg court ruled that Duffy's application was inadmissible.
Mr Duffy was acquitted in 2012 of all charges connected to the deaths of two soldiers at Massereene Army barracks in Antrim in 2009.
Pizza
The murders were carried out by the Real IRA. Two soldiers, aged 21 and 23, were shot dead as they collected a pizza delivery the night before they were due to leave Northern Ireland for Afghanistan.
Duffy was joined in the legal action by Gabriel Magee from Belfast and Teresa Magee from Craigavon who were arrested in 2009 in connection with the killing of a police officer.
Mr Magee and Ms Magee were also held for 12 days before being released. No charges were brought against them.
Their complaint was brought under the same section of the convention as Mr Duffy, as well as another part of the same article that covers the right to be informed of the reasons for arrest.
Both claims were rejected, with judges saying there had been no violation in their case.