Ballymena: Green Pastures church submits revised plan for smaller urban village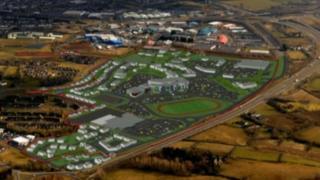 A fresh planning application to create an urban village in County Antrim will be put before councillors after planners approved a revised proposal.
Green Pastures, an evangelical church, intends to build the development on the edge of Ballymena with houses, a hotel, business and community facilities.
Planners had rejected its supermarket element, saying it would undermine the viability of Ballymena town centre.
But they recommended a revised plan with a smaller supermarket be approved.
'Final say'
The planners said the smaller retail scheme, in which the proposed supermarket is cut from 6,100sq m to 4,100sq m, now complies with planning policies.
Their recommendation adds that most of the impact will be felt by nearby Tesco and Sainsburys stores "which can carry this reduction in turnover".
The application is due to come before the planning committee of Mid and East Antrim Borough Council on Thursday.
Under local government reforms that took effect on 31 March, Northern Ireland's 11 new super-councils now have the final say over most planning decisions.
The BBC understands that some councillors may raise concerns or objections to Green Pastures plans.
'Test case'
Objections have already been raised by Ballymena Chamber of Commerce and the Northern Ireland Independent Retail Trade Association (NIIRTA).
In a joint statement, the chamber's president Alan Stewart and NIIRTA's chief executive Glyn Roberts said: "This proposed out-of-town hypermarket is a major threat to the viability of Ballymena town centre and will displace and destroy jobs from existing retailers.
"It will take millions of pounds out of the town centre economy and radically reduce footfall."
The pair described it as a "test case which will be watched by thousands of independent retailers throughout Northern Ireland".
"Local councils should be supporting and championing town centres, not supporting economically unsustainable planning applications such as the Green Pastures retail application," they added.