'Suckers list': Scammers target over 1,000 people in NI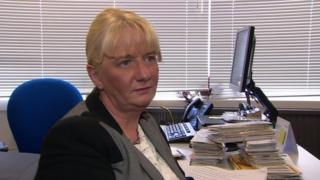 More than 1,000 people from Northern Ireland are on a so-called "suckers list" after being targeted by international fraudsters.
Those named on the list are singled out for special attention from scammers, and are frequently bombarded by scam mail, e-mails and phone calls.
Often the victims were put on the list after they replied to previous attempts by scammers to take their money.
The first they know of it is when they are contacted by Trading Standards.
The "suckers list" is bought and sold among scammers operating from a host of countries.
'Personal advice'
Trading Standards in Belfast has set up a special project to warn those named on the list.
"I have obtained what is called a 'suckers list' for Northern Ireland. We did not name it as a suckers list, the scammers named it that," said Trading Standards officer Beverly Burns.
"My role is to visit each of these people on it and and give them one-to-one personal advice. These are people who have responded to scammers, who then go on a list that is traded around the world.
"All it takes is for you to send £5 off to one scam and your name goes on that list. It could be your name, address, date-of-birth, your mother's maiden name or your email address."
'Shame'
Jimmy and Helen Mallon, a married couple from Banbridge, County Down, have both fallen victim to separate scams.
Mr Mallon, who works as a GP, lost £25,000 in a bogus property scam.
His wife was conned out of £1,250 after she was told she would have to pay to claim a bogus prize of £8,500 in a non-existent Spanish lottery.
"The shame of it is horrendous," she said.
"You don't want to tell anybody, you just keep it a secret for as long as you can and then you feel so distraught.
"Personally I just feel violated, totally violated of my privacy. How they got the phone number - because our phone is ex-directory - that is something that always bothers me."
Her husband ignored the advice of his financial advisor, who had told him not to go ahead with the transaction.
'Greedy'
"I feel embarrassed, stupid, silly, I was greedy too, because it was only a matter of greed - getting money for nothing basically," Dr Mallon said.
Following a visit from a Trading Standards officer, Mr Mallon thinks he may be on a scammers' list.
"I have a feeling we must be on a suckers list somewhere," the GP said.
"I know there is one, because Trading Standards has told us about it. It's a list of people who have been conned out of their money before - a list of people who are suckers basically.
"We might well be on the list. I don't know why or how we are on that. We bought a time share in the past. Maybe its from that."