Civil servant's letter reveals Royal Family's VE Day joy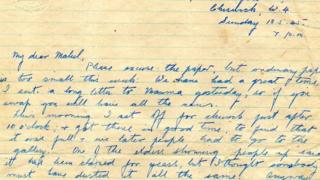 The joyful mood in London following Victory in Europe (VE) celebrations on 8 May 1945, is revealed in a previously unpublished letter written by an Irish civil servant.
The letter is dated Sunday 13 May 1945 - a day that saw the Royal Family, foreign royals and politicians attend a service of thanksgiving at St Paul's Cathedral, London.
It details everything from the cheering crowds and magnificent procession to Winston Churchill's buttonhole and Princess Elizabeth "smiling all over her face".
The writer, Frances Speer, lived in Chiswick, west London, and the letter was written to her younger sister Mabel, back home in Ireland.
It was discovered by her niece, Irene Millar, 72, from Belfast.
"I found the letter when my mother Eileen (the youngest of Frances's five sisters) died 10 years ago," Irene said.
"It's so evocative of the time and captures the day and the mood in wonderful detail.
"I first read it a while back and always meant to do something with it.
"After watching the 70th anniversary commemorations at the London cenotaph on television, I decided to tell people about it."
Frances was born in Ramelton, County Donegal, in 1898 and worked as a civil servant in Belfast before transferring to London during World War II.
The letter describes how, after attending a thanksgiving service at London's Crown Court Church of Scotland, Frances then watched the Royal procession as it made its way to St Paul's Cathedral.
"There were big crowds and hundreds of police and St John men and mounted police. Such beautiful horses they have and they shine like satin, really like satin," she wrote.
"First, we watched the cars taking Army, Navy, Air Force, Cabinet and foreign royalties. Such cars too, you could hardly hear them passing.
"After an interval, some more cars passed. The Duchess of Kent and the children, King Peter of Yugoslavia, Queen Wilhelmina, King Haakon of Norway, Queen Mary in almost white dress and hat, sitting up like a ramrod, and all the notabilities. Churchill too, of course.
"Then a lull and the cheering began down the road."
Frances goes on to describe the excitement and spectacle as the Royal procession made its way to the cathedral.
"First came five white horses, one in front and four in a line behind with police riding, then two men in scarlet coats and white breeches, then the carriage with four horses in it, two by two and a postilion riding one of the front ones and more scarlet coats on the box and sitting behind also. And in the carriage the four Royal family.
"The Queen was in her pale blue and the girls in pale grey and the King in naval uniform."
As well as a sense of joy and relief, Frances's letter also touched on the reality of the war.
She recalled the earlier Crown Court Church service and "sitting opposite gallery windows that were blown in in the flying bomb raids".
"They are covered with cardboard," she said. "And I remembered the evening when we sat in church and listened to a flying bomb coming till it went off somewhere in the distance.
"People are delighted that it is over, but they know there is a tough spell ahead, not only in Japan, but to get things going again."
However, the celebratory atmosphere was infectious and Frances added: "The St Paul's service was at 3pm and they came back past us again at 4.25pm.
"Our royal party were first coming back, Elizabeth smiling all over her face, then the second carriage, then Queen Mary's car, and then the other royalties in their cars, then Churchill beaming out with his silk hat on his knee and a white flower in his buttonhole."
Said Irene: "Frances was in her late 40s when she moved to London at the beginning of World War II.
"She was a very independent and brave woman, but was incredibly fond of her family.
"A few years after the war ended, she got a job with the Ministry of Works and moved to Newcastle upon Tyne.
"She retired in 1959 and returned to Belfast where she lived until her death in 1983."