2.3% rise in Northern Ireland crime recorded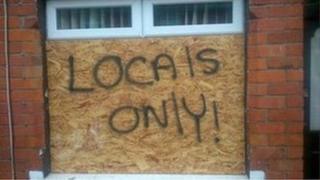 The Police Service of Northern Ireland has reported a 2.3% increase in crime in its annual figures.
However, they said it is still the fifth lowest level of crime since the current counting rules were introduced 16 years ago.
There were 105,000 crimes recorded for 2014/15.
Hate crime has also risen - last year there were almost 1,000 racist crimes recorded.
Deputy Chief Constable Drew Harris said police need the public's help to reduce crime levels.
"There is a view that police deal only with crime, whereas this role accounts for less than 50% of PSNI activity," he said.
"We are reviewing how we deliver our service, in order to prioritise resources to the greatest threat, risk, harm and opportunity.
"Working in partnership with other statutory and community organisations will become increasingly important in the coming months, as we continue to seek to keep people safe, and address the issues that have been identified by communities as a priority."