Belfast to get new bus lane cameras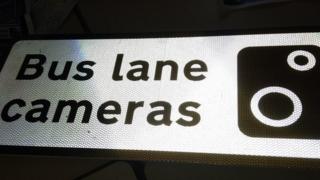 Six new bus lane cameras are to be introduced in Belfast city centre to catch drivers illegally using the lanes.
A mobile detection unit will also be introduced to monitor bus lanes on main roads into the city, like the Ormeau Road, Falls Road and Antrim Road.
Drivers caught illegally using bus lanes could be fined up to £90.
The scheme is expected to raise about £500,000 a year.
The latest survey of bus lane traffic suggests that 50% of vehicles that use bus lanes are doing so illegally.
The new cameras will be operational from next month. Two will be positioned behind Belfast City Hall.
There will be a three-week 'honeymoon period' in which warnings rather than fines will be introduced.
The fines will be imposed from 21 June onwards.
It is anticipated that more than 10,000 drivers a year will be caught by the new state-of-the-art cameras, which use number-plate recognition technology.
New signs are being erected to warn drivers.
Those behind the scheme say the advice is simple - obey the signs or pay the fines.
In a statement, Transport Minister Danny Kennedy said: "While the vast majority of drivers obey the rules of the road, other drivers choose to illegally use bus lanes.
"The enforcement measures are aimed squarely at the drivers who illegally use bus lanes to jump queues and cut across traffic.
"These drivers can be a hazard to themselves, other road users, cyclists and pedestrians. They can also delay the progress of passengers opting to use our sustainable public transport service."
Belfast's city centre bus lanes were introduced in September 2012.
At the time, the change was controversial and initially led to complaints from motorists who faced long delays due to the new system.
The bus lanes were part of the Belfast on the Move traffic plan, which gives priority to public transport, pedestrians and cyclists in the city.