Derek Davis: Former BBC and RTÉ broadcaster dies aged 67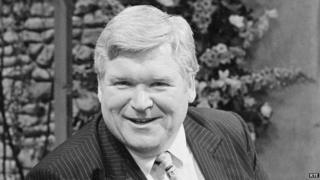 Former BBC broadcaster and journalist Derek Davis has died aged 67.
Mr Davis grew up in Bangor, County Down, and began his career in news with BBC Northern Ireland before moving to US network ABC and then to RTÉ.
He later moved into light entertainment, presenting the BBC's A Taste of Ulster, looking at Northern Ireland's culinary landscape.
He suffered from health problems in later years and spoke openly about his battle with obesity.
Last year he underwent gastric surgery that saw him losing over five stones.
He told the Irish Examiner in December 2014 that he chose to have the surgery "to improve both the quality and the potential length of my life".
Mr Davis went to boarding school in County Antrim, and during his childhood in Bangor he found a love of boats and angling, which later provided the inspiration for a number of television series for the BBC and RTÉ.
A versatile broadcaster, Mr Davis was a popular figure with radio and television audiences.
He was a regular figure on RTÉ, initially spending 11 years in the newsroom and presenting bulletins for three years, before moving on to host entertainment and travel programmes in the 1980s and 1990s.
He also worked on several radio shows for throughout his career with RTÉ.
RTÉ's director-general Noel Curran said Mr Davis was "one of the most versatile presenters" the network had ever seen.
"At heart he was always a journalist, and he brought that inquisitive sense of journalism to everything he did," Mr Curran added.
Irish president Michael D Higgins said Mr Davis's loss would be felt "across the island of Ireland".
"He exuded a natural charisma, warmth and inquisitiveness, and in every sense was a gentleman," said the president.
"He had a great familiarity with Irish life in all of its different aspects, including its rivers and lakes and its community of fishermen."
The BBC's Paddy O'Flaherty said Mr Davis was a "wonderful companion".
"Only last month we were fishing together, and he was in great humour and effervescent as always - he was rejoicing that he was able to really enjoy life now after losing a lot of weight," he said.
"He's going to be very sadly missed as a great and very popular broadcaster - he always had the ability to cut immediately to the heart of the story."
Mr Davis introduced the US president Ronald Reagan when he visited Ireland in 1984 and presented the Rose of Tralee in 1995 and 1996.
Anthony O'Gara, the executive chair of the Rose of Tralee International Festival, said Mr Davis was "a gentlemen and a professional broadcaster".
He is survived by his wife and three sons.