College Court Central: Buyers lose High Court test case against developer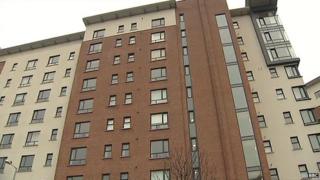 Six apartment buyers who failed to complete the purchase of city centre flats in Belfast have lost a High Court test case against the developer.
Their lawyers argued contracts were breached when part of College Court Central was sold for social housing.
More than 70 of the 117 flats have been sold or earmarked for social housing.
The judge ruled the developer was entitled to sell to social housing associations and to be compensated over the buyers' failure to complete sales.
Market crashed
The apartments in King Street were built during the height of Northern Ireland's housing boom and were originally priced at up to £190,000.
Potential buyers paid deposits to secure the new homes, but when the property market crashed, some were unable to secure mortgages to complete the deals.
The developer, Fernhill Properties (NI) Ltd, sued some purchasers over their failure to honour their contracts.
In the test case, proceedings were issued against Henry and Ann McCambridge, one of a group of six defendant purchasers.
At the centre of the action was the presence of social housing tenants within the building.
'Type of neighbour'
The court heard that 31 of the apartments are currently owned and let by one housing association, with plans to sell a further 42 flats to another scheme.
The defendants countered the lawsuit by claiming this amounted to a fundamental breach of the original terms of the contract.
But counsel for the developer insisted the defendants had no entitlement to a particular type of neighbour.
The judge rejected the buyers' claims that developer had a duty to them not to make fundamental alterations to the character of the building.
'Inner-city location'
He ruled in Fernhill's favour, saying the height of any duty it owed the purchaser was confined to the property contracted to sell and buy.
The vendor was entitled to sell to housing associations and mitigate its losses, he added.
The judge said: "Such sales are not wholly alien to this inner-city location. The defendants were not buying a share in a condominium where they had rights of ownership, as opposed to rights of way, over the rest of the property."
He also rejected a separate claim that the developer was in breach of contract because the building was not constructed as promised in the brochure.
The total award of damages will be assessed at a later stage.