Prince Charles' NIO letter about Armagh Jail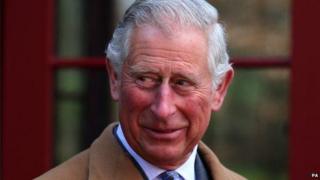 A private letter sent by the Prince of Wales to the Northern Ireland Office 11 years ago was about Armagh Jail.
Twenty-seven letters, sent to Labour government ministers about a decade ago, have been published after a lengthy legal battle.
Prince Charles wrote to then Northern Ireland Secretary Paul Murphy offering his assistance in any plans for the conservation and reuse of the jail.
Release of the letters follows a decade-long campaign by the Guardian.
The Prince of Wales wrote to Mr Murphy a week after staying at Hillsborough Castle, the Queen's official residence in Northern Ireland.
In the correspondence, dated 6 September 2004, the prince refers to an "Action-Learning Pilot Scheme" that he discussed with Mr Murphy.
Prince Charles said if the scheme was implemented, it "could help perhaps to break the mould of housing "ghettoes" in Northern Ireland.
The letter also reflected the prince's interest in the redevelopment of Ebrington barracks in Londonderry.
In a separate letter to the then Prime Minister Tony Blair, also written in September 2004, Prince Charles said that during a visit to Northern Ireland he had been "able to see the hugely impressive airborne surveillance capability provided by the Armed Forces in the province".
Prince Charles raised his concerns about delays in procuring a replacement for the Army Air Corps's Lynx helicopters, stressing the challenging job the Air Corps was facing in Iraq.
The 27 letters, written to seven government departments between September 2004 and April 2005, were published on Wednesday with redactions.
A government veto on publication was declared unlawful by the Court of Appeal last year - a decision which was upheld by the Supreme Court in March.
Clarence House said the move would "only inhibit" the prince's ability to express his concerns.