Casement Park: Stormont committee to look into safety issues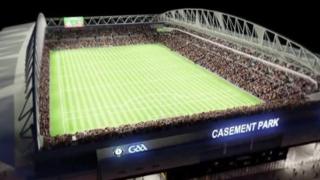 A Stormont committee is to conduct an inquiry into safety issues at the Casement Park stadium project in west Belfast.
The Culture, Arts and Leisure Committee voted in favour of the inquiry by five votes to three on Thursday.
Last month, a safety expert told the committee the 38,000-capacity stadium could not be evacuated safely in certain emergencies.
He said there was the potential for a disaster like the Hillsborough tragedy.
The expert, Paul Scott, claimed his concerns about emergency evacuation procedures were ignored and he was being "bullied" into dropping his objections.
However, Northern Ireland Sports Minister Carál Ní Chuilín said she first heard of his allegations when he appeared before the committee. She has since refuted them.
Ulster Unionist leader Mike Nesbitt called for an inquiry into the matter, saying it was "beyond belief" that Ms Ní Chuilín was unaware of safety concerns until then.
Unionists on the committee have now voted in favour of an inquiry, while Sinn Féin and SDLP members argued it was "premature" as the minister had already started an investigation into Mr Scott's claims.
But the DUP's William Humphrey said it was important to hear from the minister "what she knew and what she didn't know".
Ms Ní Chuilín is to be invited to appear in front of the committee before the end of the month.
'Without foundation'
Meanwhile, the sports minister hit back at claims that she was aware of safety issues around the redevelopment of the stadium and said she was "confident" her role would stand up to scrutiny.
In a statement, Ms Ní Chuilín said Mr Nesbitt's comments were "without foundation".
"I have repeatedly stated that I will not compromise on safety and that no stadium will open without a valid safety certificate. That was the case for the Kingspan Stadium at Ravenhill and it will be the case for Windsor Park and Casement Park."
Ms Chuilín has asked for a full review of the Casement Park project.
A new consultation process is due to take place ahead of any fresh planning application.