Ex-children's charity boss Nuala Magee gets suspended term for £48k fraud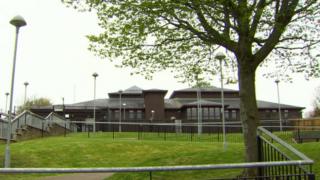 A children's charity chief who abused her position to swindle almost £50,000 to fund an extravagant lifestyle has been given a suspended prison sentence.
Nuala Magee, 48, from Allengrove, Crumlin, County Antrim, pleaded guilty to 23 charges of false accounting.
She also admitted five counts of transferring criminal property and one of theft.
Magee was the chief executive of the now defunct Together 4 All charity based in Lurgan, County Armagh.
Her 18-month prison term was suspended for two years.
The judge at Craigavon Crown Court told Magee he was suspending the term because of the "exceptional circumstances" surrounding a previously undiagnosed "significant depressive disorder" and the impact her incarceration would have on her youngest son.
Her husband, 45-year-old Declan Shannon, whose personal and business bank accounts were used to launder the money, also avoided jail when his 12-month term was suspended for two years.
Last March, Magee admitted the offences, which occurred on various dates between 27 October 2008 and 23 June 2011.
Her husband, with the same address, admitted two specimen offences of possessing criminal property, £5,000 and £3,650, but accepted "they relate to the the entirety of misconduct".
Magee was the project manager, chief executive and secretary of Together 4 All when she created numerous fake invoices amounting to some £48,266, which were then paid into the personal and business bank accounts of Shannon.
The couple had been living at Ada Baker Street, Forde, in the Australian Capital Territory, but in February a judge ordered them to come back to Northern Ireland or face arrest.
'Shopping sprees'
The Together 4 All charity was funded by an American company, Atlantic Philanthropies, who bankrolled it in 2007 to implement their 10-year plan to improve children's futures through integrated education in the mid-Ulster area. It has now disbanded.
The court had previously heard how Magee created false invoices and along with a number of cheques from generous donations, diverted the money into the account of her husband and unsuspecting son Niall Atkinson.
Mr Atkinson, 24, from Galwally Park in south Belfast, had faced one count of possessing £3,600 of criminal property but that was "left on the books" after Magee and Shannon admitted their offences.
A prosecuting lawyer told the court how the stolen money had been spent on gambling trips to Drumbo Park greyhound track, expensive holidays abroad and shopping sprees.
The frauds were uncovered in 2010 when the charity held an audit of internal accounts.
Sentencing the pair, the judge said it was clear that Magee had been the "prime mover" in the frauds that had resulted in a "substantial loss to the charity which was established to improve the lives of children".