Peter Robinson: London 'would rather take welfare power back'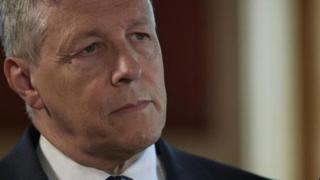 First Minister Peter Robinson believes the UK government would rather take direct charge of welfare powers than witness the collapse of the Stormont Executive.
The DUP leader said his party will not back a budget that would contain a £500m black hole in the absence a welfare deal.
He said Stormont cannot implement a further wave of welfare reform, which is another reason why London may have to take control.
Mr Robinson was speaking on Friday's Inside Politics programme.
"Sinn Féin have to take a decision, that they are going to cut half a billion pounds of the budget in Northern Ireland, or else address the issue of welfare reform, there's nothing in between," he said.
When asked if the collapse of the executive was a realistic option, Mr Robinson said: "I don't think the [UK] government will allow that to happen, I think they will take the power back themselves, I think they will legislate for it."