Health Minister Simon Hamilton issues warning over budget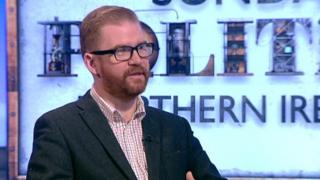 Health minister Simon Hamilton has said the executive may not have a budget if agreement cannot be reached by the NI political parties on welfare reform.
Mr Hamilton said the impasse on a deal was impacting on the "most vulnerable".
"I don't think we will have a budget if we don't have an agreement moving forward," he said.
The Finance Minister, Arlene Foster, has warned a £500m hole will open in the executive's budget if the Stormont House Agreement is not implemented.
Mr Hamilton, the former finance minister who was appointed to the health job in a DUP re-shuffle last week, told the BBC's Sunday Politics programme that fines as a result of the stalemate meant the executive was already losing £9.5m a month.
"We have already lost £100m from our budget, each month that passes we are losing £9.5m a month on what we can spend on public services, that is already having an impact on the health budget," he said.
"I hear this argument that by incurring these penalties that is some sort of stand for the most vulnerable in society, but the fact we are losing £9.5m a month is already impacting on vulnerable people in Northern Ireland.
"If I had that money in my department now, I'm not saying that I would get all that money into the Department of Health, but if I did that would be the equivalent of 233,000 physiotherapy treatments, the equivalent of 16,000 hours of nursing care, it would be around 1800 hip operations, 2,300 knee operations, so the argument that by incurring this penalty we are helping vulnerable people is wrong."
Commitments
The Stormont House Agreement involves a series of interlocking commitments on welfare reform, a balanced budget and public sector redundancies .
Sinn Féin blocked the welfare reform bill in the assembly in March, saying plans for implementing the deal do not provide enough protection for claimants.
On Tuesday, Mrs Foster told the assembly that the budget was predicated on welfare reform being implemented half way through this year.
She said if that did not happen, the Treasury would reduce Stormont's departmental budgets by £114m.
The minister added that other factors mean that "at the moment because the Stormont House Agreement has not been implemented... there's a £500m hole in the budget".
Mrs Foster said there were "around two weeks to deal with this matter" which is a "very short window of opportunity".