Quarry deaths prompt safety campaign in Northern Ireland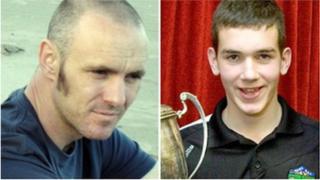 A new safety campaign is being launched in Northern Ireland aimed at preventing deaths in disused quarries.
The campaign, called Quarry Water is a Stone Cold Killer, Stay Out, Stay Alive, has been developed after an audit identified high risk sites.
The most recent quarry deaths were those of a teenage boy and a man who drowned in County Down two years ago.
Kevin O'Hare, 15, and Colin Polland, 39, died at a disused quarry in Annalong on 1 June 2013.
Kevin got into difficulty, a friend ran for help and Mr Polland jumped into the water to try to rescue the teenager.
Launching the campaign, Northern Ireland's Environment Minister Mark H Durkan said the greatest risk from disused quarries was quarry lakes.
"Few people realise how extremely cold they are. They are often much colder than rivers, lakes, reservoirs and even the sea," he said.
"A sudden plunge into cold water initiates a gasp response, which can cause drowning within seconds. It also prevents one holding their breath if their head is submerged under water.
Hidden currents
"If an individual does not get out of the water quickly, the cold takes its toll. Poor blood circulation causes stiff fingers, reduced coordination and loss of strength.
"Swimming to safety and pulling oneself out of the water may no longer be possible. One may no longer be able to grasp a rope or rescue hoist."
Joan McCombe, principal of St Malachy's High School, Castlewellan, County Down, where Kevin O'Hare was a pupil, welcomed the launch.
"It is very important that I reiterate that Kevin was a wonderful young man and we miss him very much," she said.
"Colin was very courageous in trying to save Kevin. As a community we lost two very fine people.
"Young people need to be made aware that it is essential they keep away from disused quarries and other open water dangers.
"Schools will close in a number of weeks for the summer holidays and young people are always drawn to water particularly when the weather is good, so it's vital we start getting the message across now.
"I would like to see this become a high profile campaign similar to the road safety, Stop, Look and Listen and the importance of wearing a seatbelt campaigns.
"The message that quarry water is a stone cold killer has to go out rigorously and repeatedly, especially across social media to as that is how today's young people connect."
Justice Minister David Ford said it was crucial for people to understand the dangers of abandoned quarries.
"In addition to the very low water temperature, there are other hazards, such as submerged machinery which may not visible from the surface, hidden currents and under water recesses where someone can very easily become trapped," he said.
"Some sites may also contain rubbish and industrial pollution which can cause skin and eye irritations, rashes and infections.
"As we approach the summer break it is particularly important that parents speak to their children about the risks involved. "
The campaign is an initiative between the Department of the Environment, the Department of Justice, the Quarry Products Association and the Policing and Community Safety Partnerships.