Julia Holmes: Police investigate if dead woman was missing fraudster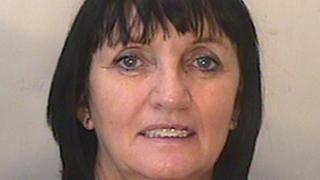 Police in the Republic of Ireland are investigating if a woman found dead was a Northern Ireland woman wanted for fraud.
The bodies of a woman and a man were discovered at a farmhouse in Askeaton, County Limerick.
They have been named locally as Julia Holmes, who was in her 60s, and her partner Thomas Ruttle, in his 50s.
She has been wanted by Northern Ireland police since absconding in 2011 while charged with fraud totalling £18,000.
Known to have used false identities, she was also being sought by the FBI and police in the Republic of Ireland.
The couple were last seen on 14 March.
Police were alerted by people in the area amid concerns there may have been a robbery at the house, and the bodies were discovered on Monday at about 03:00 local time.
They have been removed from the house and a post mortem examination will take place.
Police in the Republic of Ireland said they "wish to stress that there has been no positive identification of either of the deceased and efforts to identify them are ongoing".