Manchester United's Milk Cup withdrawal 'let down NI fans'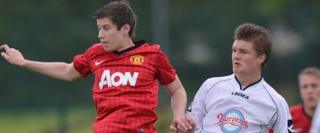 Manchester United has "let down" fans in Northern Ireland by withdrawing its youth players from this year's Milk Cup, the tournament organiser has said.
The English club has a long association with the youth competition which began in Northern Ireland in 1983.
Milk Cup organiser Jim Sandford said the club's decision to pull out, 10 weeks after agreeing in writing to come, showed "disdain" for NI fans.
Manchester Utd said it withdrew after assessing "pre-season training needs".
Mr Sandford told BBC Radio Ulster: "It was something that came to us as a complete shock on Friday evening when I got a phone call from Mr John Alexander, who is the chief executive at Manchester United."
The club's former manager, Sir Alex Ferguson, was a big supporter of the Milk Cup and under his leadership, former Manchester United stars such as David Beckham, Ryan Giggs, and Paul Scholes took part in the competition as youth players.
Mr Sandford said Sir Alex's links with the Milk Cup were forged through the Scot's admiration of Northern Ireland footballer Bertie Peacock, who played for Glasgow Celtic throughout the 1950s.
He said the relationship was "instrumental in bringing Manchester United across to the tournament", which was founded in Peacock's native Coleraine, County Londonderry.
The Premier League club's participation added much interest to the youth competition, and the Milk Cup organiser said that fact that Sir Alex was no longer managing the club may have played a part in the decision to withdraw.
Mr Sandford said the club had "let not only us down by changing their mind, after giving us written confirmation... they've let down the whole army of Northern Ireland fans of Manchester United.
"Many fans from this country go to Old Trafford on a weekly basis. There are some people who depend on the team coming to the Milk Cup to support the team, who can't afford to go to Manchester to support them at Old Trafford.
"So they've let those people down as well, which is probably a bigger show of disdain for the supporters over here, than they have [shown] for the Milk Cup."