Legal aid payments row: More law firms quit cases in protest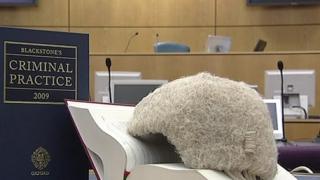 Two more law firms in Northern Ireland have withdrawn from criminal cases requiring legal aid in a dispute over cuts to the level of payments.
On Thursday, Gerard McMurray from KRW Law told Belfast Crown Court the firm was "coming off" in the case of a woman due to stand trial for murder.
Meanwhile in Londonderry, a barrister withdrew from a sexual assault trial.
Both courts were told the withdrawals were in response to new rules reducing legal aid payment levels.
Mr McMurray's firm was due to represent Angelina Sara Jane Mitchell, 43, who is accused of murdering her partner at his home in south Belfast in May 2009.
'Not a fair renumeration'
He told the court that under the new rules, his firm said it "did not believe that this is a fair renumeration to discharge our professional duties in relation to all cases".
In Derry, a defence solicitor told the judge that barrister Brian McCartney QC and junior counsel pulled out of the trial of Lee Healy, 31, who is charged with sexual assault and common assault offences.
Their announcements come just a week after the largest criminal law firm in Northern Ireland, Kevin Winters & Company, said it was withdrawing from all major cases.
On Tuesday, the Criminal Bar Association said it was withdrawing from all new criminal cases, but that barristers would continue with cases that began before the rules came into effect earlier this month.
It follows a decision taken earlier this year by the Justice Minister David Ford to reform the legal aid budget, in order to reduce department costs.
He said it was necessary to implement changes at a time when cuts were being imposed on every front-line service in the Department of Justice (DoJ).
However, the decision has also been criticised by the Law Society and Bar Council of Northern Ireland.
Last week, it emerged they were joining forces in legal action to take Mr Ford to court in an attempt to have the new rules overturned.