Mid and East Antrim Borough Council withdraws dog exclusion zones proposals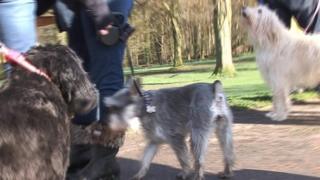 A Northern Ireland council has withdrawn its proposals for a number of dog exclusion zones.
Earlier this month, Mid and East Antrim Borough Council launched a consultation process aimed at setting up 96 dog exclusion zones.
The plans meant anyone caught walking their dog in the areas listed would have faced a fine of £80.
The council said it is now scrapping the consultation after residents in Carrickfergus raised concerns.
On Tuesday, the director of environmental services at the council, Philip Thompson, told BBC Radio Ulster's Talkback programme that the consultation had been proposed in order to deal with dog fouling and dog control issues.
Some of the areas included in the proposals included the Knockagh Monument on the outskirts of Carrickfergus, as well as parts of Carnfunnock Country Park in Larne.
'Extremely stringent'
Playing fields and community centres in Ballymena, Greenisland and Whitehead were also listed.
It was set up as a four-week consultation due to end on 19 June, but on Thursday evening the council said it was stopping the consultation immediately.
In a statement, it said: "Officers have acknowledged that the public would find the proposals extremely stringent in terms of the number and extent of the exclusion areas and have on the request of the mayor and councillors withdrawn the consultation.
"This matter will be further considered in the future by Mid and East Antrim Council."
Dog owner Jermaine Coulter, who lives in Carrickfergus, said she was delighted at the council's decision.
She said: "When I saw the whole list of places I just thought, surely they can't be allowed to do this, where are all the dog walkers going to go?
"As a dog owner and a mother I understand that it is annoying when you see a dog owner not picking up after their dog, but I don't think it's fair for all responsible dog owners to be punished because of the lazy ones."