Tolerance is two way says new Presbyterian moderator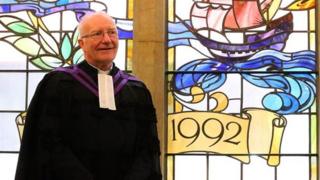 The new moderator of the Presbyterian Church has said that tolerance is "a two-way street".
Rev Dr Ian McNie, 64, of Trinity Presbyterian Church, Ballymoney, has taken over from the Rev Michael Barry.
He was formally elected and installed at the opening of the General Assembly of the Presbyterian Church on Monday evening.
Speaking to BBC NI's Good Morning Ulster, he said the Church must "stand where it stands" on morality.
"Things that are legally permissible are not always morally right, the Church must stand on what is morally right," he said.
Asked about the Ashers 'gay cake' court case - where a judge ruled that a Christian-run bakery discriminated against a gay customer by refusing to make a cake with a pro-gay marriage slogan - he said it was "complex" and that the Ashers had their own convictions.
'Two-way street'
Dr McNie said he, personally, did not support gay marriage.
"My personal opinion is not of great consequence. I cannot put my reason or my conscience above the word of God. Whatever the bible says that is where we, as a Church, would want to stand," he said.
On the recent same-sex marriage referendum in the Republic of Ireland when more than 62% voted in favour of amending the country's constitution to allow gay and lesbian couples to marry, Dr McNie said: "A third of the people in the south of Ireland were unhappy with the outcome of the referendum.
"That third have to be given a place and some credibility as well.
"But, as a Church, we have to step outside our comfort zone, we have to show love and concern to those we may not agree with. We have got to be prepared to reach out to everyone."
At his installation on Monday, Dr McNie spoke of an increasing intolerance to the Church's world view on a range of issues from the beginning and ending of life, the family dynamic, freedom of conscience and the sanctity of marriage.
In reaffirming the Church's commitment to "the biblical and historical position of marriage," he also recognised society's right to express its opinion.
At the same time he said that the Church had "the right to expect the same level and proportion of tolerance afforded to us that other groups expect afforded to them. Tolerance is a two-way street".
'Caring fellowship'
Dr McNie added: "By definition, tolerance accepts there are different opinions and that we should agree to disagree in an agreeable manner, not the definition that is currently postulated - that tolerance is the acceptance of different opinions and that all opinions are equally correct and should be endorsed as correct.
"This leads to a position where Christians are required to promote ideas and deliver services that are contrary to their beliefs. True tolerance can only flourish in an atmosphere of mutual respect in disagreement."
The theme of his year in office is "a caring fellowship".
An estimated 1,000 people are expected to attend the meeting of the Church's governing body in Belfast from congregations across the island of Ireland.
Dr McNie is the 176th moderator.