Kincora hearing: Colin Wallace 'nothing to fear' over inquiry evidence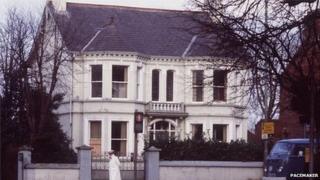 A former Army officer who claims attempts to expose a paedophile ring at the former Kincora boys' home were blocked has nothing to fear from testifying at an inquiry, the High Court has been told.
Colin Wallace was assured he would not be breaching the Official Secrets Act if he gave evidence to the Historical Institutional Abuse Inquiry, a lawyer for the secretary of state said.
A judicial review is under way over the decision to exclude Kincora from a child abuse inquiry at Westminster.
Three senior care staff at Kincora were jailed in 1981 for abusing 11 boys.
Paedophile ring
A former resident of the east Belfast home is taking legal action to force an independent inquiry with power to compel witnesses and the security services to hand over documents.
Gary Hoy was abused by two men who were subsequently convicted.
There have been allegations that a paedophile ring at Kincora was linked to the British intelligence services.
The government has so far refused calls for the abuse scandal at the home to be included within the scope of the inquiry established by Home Secretary Theresa May and headed by New Zealand judge Lowell Goddard.
The government has said that as child protection is a devolved matter, the right place for the Kincora allegations to be examined is Northern Ireland's Historical Institutional Abuse Inquiry (HIA), which has been sitting in Banbridge, County Down.
The victims of Kincora claim the Northern Ireland inquiry lacks the powers to compel evidence or witnesses from government agencies.
Allegations made by Mr Wallace are at the centre of their case.
The former military intelligence officer has said in media interviews that he received intelligence in 1973 to say that boys were being abused, but claimed some of his superiors refused to pass on the information.
He has said he was prevented from giving evidence to previous inquiries because of the Official Secrets Act.
In court on Tuesday, a barrister representing the secretary of state said a waiver had been given so that Mr Wallace and others like him were free to give their accounts.
He said Mr Wallace could be compelled to attend the HIA, but emphasised that witnesses should voluntarily testify.
"The mere fact there are matters of national security elements in any of the evidence doesn't mean the powers of compulsion disappear," he told the court.
He added: "If there's a whistle-blower who wants to give an account to the inquiry there is nothing to fear in terms of prosecution."
The case continues.